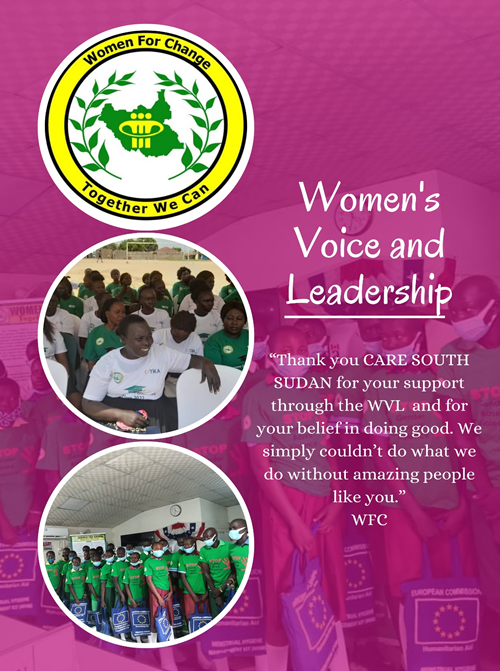 Our Video
Welcome to

Change to Women for Change, South Sudan
Women for change (WFC) is a national non-governmental organization (NNGO) formed in 2016 and legally registered in 2018 with RRC registration Number: 1725 by a group of South Sudanese women from various diversity and experiences, with a feeling of supporting the wellbeing and economic stability of widows, school dropout and children suffering from intentional and unintentional cause. As a women and child- Centred-humanity driven organization working for and with women, children affected by the crisis and embarks on women, child and general protection, Gender Base Violence AOR, Child Protection AOR, education (formal & non-formal), reproductive health, livelihoods and food security, peace building, organizational capacity strengthening, advocacy and visibility in the states of Central Equatoria State, Eastern Equatoria State, Warrap State and Western Bahr el Ghazel .

Objective of Women for Change
Women/Children rights
To advocate and Stand for Women/children rights there by facilitate their full access to basic and fundamental social needs justified by national and international legislations in areas of human development and Children Rights.
Social-Economic Development
To mobilise and make Youths and women's in social-economic development through engagement them in Livelihood (Agriculture, Small business, vocational etc), Health and HIV, Water and Sanitation.
Health programmes
To empower women so that they contribute to positive and healthy living of the Children with vulnerability through involvement in Health, Water and Sanitation programmes.
societal living
To provide flat form for exchange of developmental and creative ideas through meetings, forums, dialogues, conferences for positive societal living through..
What We Do
Women for Change programs are dictated by people specific women, their priorities, availability of resources and our technical expertise, which are vital and transparent to all the stakeholders. Women for Change is committed to strengthening local communities and institutions to ensure women are able to continue improving their living condition. Women for Change is engaged in the following fields:
Entrepreneurship and capacity development
more information..
Women empowerment
women,we applaud women for change's commitment to amplifying women's voices through theproject".
Livelihood and food security
more information
Advocacy and Peace Building
more information
Quality Education
I was told educating a woman is educating a nation and truly women are the biggest pillars of the nation and instilling skills of tailoring and soap making for self reliance" says Paul Dr. NGO Forum Communication Focal Person
Health Rights
more information